Professional Workwear: How To Wear Ankle Pants to Work?
As a working professional, I know there are days when I want to feel comfortable without compromising my style. That's why I love ankle pants! They are the perfect mix of stylish, functional, and comfortable. Today I will show you how to wear ankle pants to work with these thirteen stylish outfit ideas! So whether you want to style them up or keep them casual, I'm here to show you how to pull off the perfect work-ready look.
How To Wear Ankle Pants to Work?
I often think about what to wear, ankle pants to work. When I'm at a loss for wardrobe inspiration, I turn to ankle pants! They are an excellent way to balance feeling comfortable and looking the part. You can create chic, sophisticated, and work-appropriate outfits with ankle pants. Let me show you 13 different ways to wear ankle pants to the office!
1. Polka Dot Blouse With Ankle Pants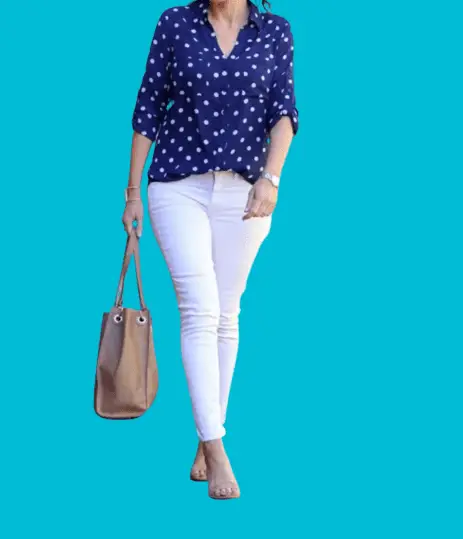 I recently invested in a polka dot blouse and ankle pants to update my work wardrobe. This outfit allows me, as a female, to show off my personality while also staying professional. By pairing the two together, I can style it with comfortable wedge sandals or sleek pumps. For such a versatile and feminine outfit, I'm sure I will have many occasions to wear it in a professional environment.
2. Stripe Button Down Shirt With Ankle Pants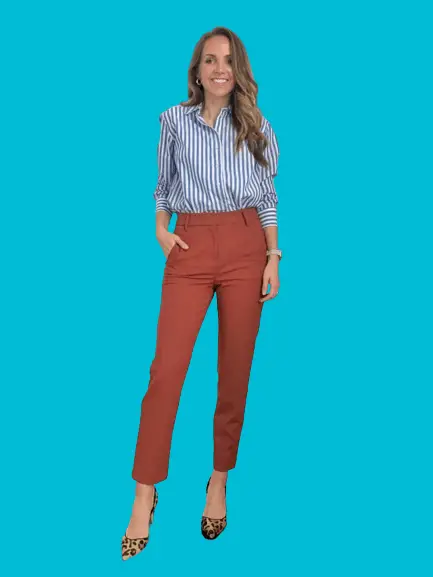 I love finding new ways to incorporate my favorite pieces into my work wardrobe. Recently, I've been experimenting with a style trend of pairing a striped button-down shirt with ankle pants. The look is classic, modern, and a great way to wear it for the office. In addition, I added a classic pointed-toe pair of pumps and some subtle accessories to make the outfit even more sophisticated. This is a great way for me to make a strong impression during job interviews or while negotiating a deal.
3. Formal Tops With Ankle Pants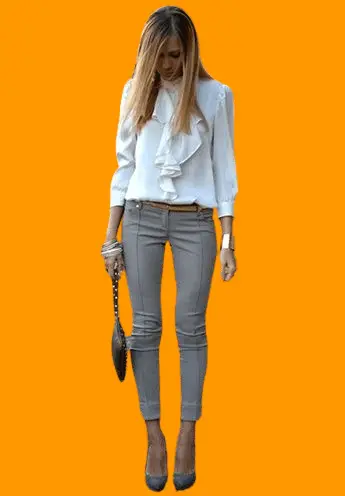 A great way to elevate a classic ankle pant look is to pair it with a formal top. A sophisticated turtleneck top, for example, can be the focal point of the look. It gives the outfit an air of sophistication and provides a professional and modern look. You can also layer a blazer to formalize the outfit even more. It's perfect for any female professional looking to make an impact in their workplace.
Also Read: Ankle Pant Outfit Ideas For Plus Size Women
4. Cardigan With Ankle Pants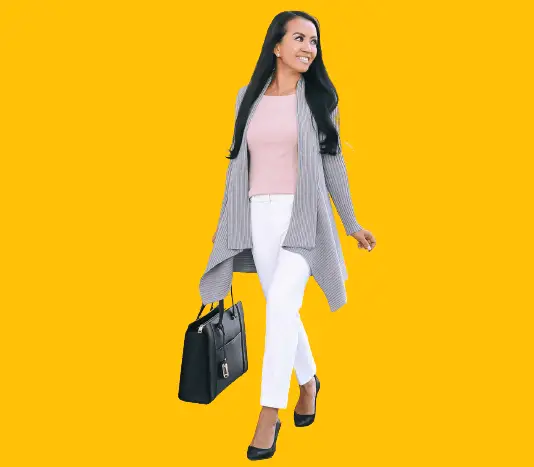 I tried the cardigan with ankle pants for the office this season. On cooler days, I can layer a cardigan over a blouse and ankle pants, creating a matching outfit that still looks modern and elegant. I chose neutral colors to make a long line running from the top to the bottom, giving me a longer, leaner look. With the right accessories, I'm ready to be professional in style!
5. Blazer With Ankle Pants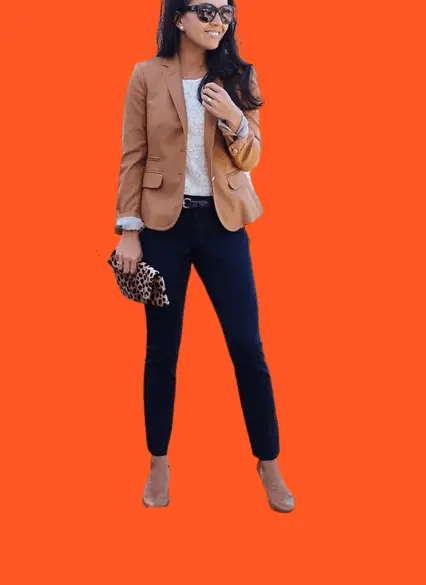 A well-tailored blazer is the perfect addition to take your black ankle pant outfit further. A blazer with a stripe or graphic print can add an air of sophistication and instantly make the look more professional. Then, opt for some strappy flats or a pair of high-heel ankle boots to finish the look. This outfit can be a great way for female professionals to make a strong statement in any working environment during winter. To know more about winter outfits with ankle pants, read our guide- How To Wear Ankle Pants in Winter?
6. Long Tops With Ankle Pants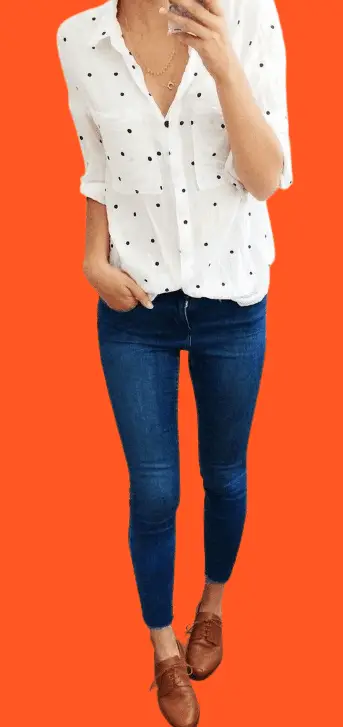 Long tops are the perfect way to wear with a skinny ankle jeans outfit for any occasion. Choose an airy, lightweight top cut at or below the knees for a work-appropriate look. Then, add a pair of classic ankle-length pants and a pointed-toe pair of flats. Add glitzy accessories like sparkly earrings or a bold statement necklace for a stylish look.
7. Basic Black Top With Ankle Pants
A basic black top with ankle pants never fails for a timeless and classic look. This look is perfect for any professional female looking to make a lasting impression at work. Choose a basic black top in a simple silhouette and tuck it into your ankle pants for an effortless and chic ensemble. This ankle pant outfit is a fail-safe way to look polished and professional at work.
8. Sleeveless Top With Ankle Pants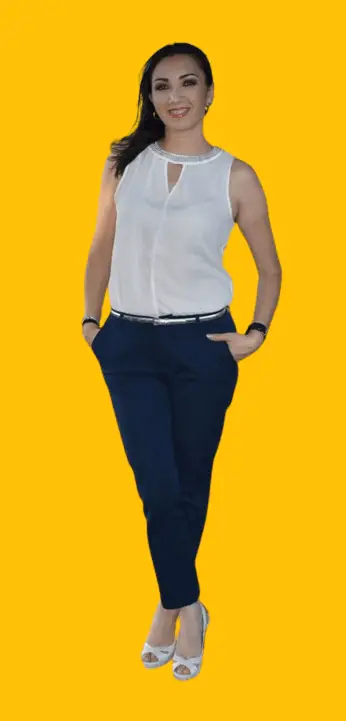 Sleeveless tops are an unexpected but stylish addition to any ankle pant outfit. Choose a sleeveless top that's lightweight and airy, and tuck it into your ankle pants. Add a pair of strappy sandals or a classic pair of pumps to complete the look. This outfit is great for any female professional looking to make a stylish statement at work.
9. Navy Blue Sweater With Ankle Pants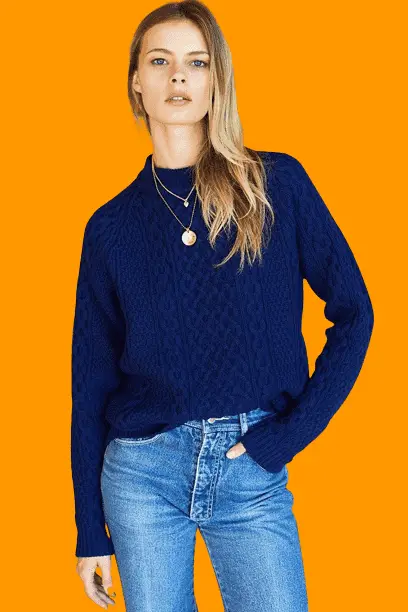 I love the look of navy blue sweaters paired with ankle pants for the office. Adding a pair of dressy flats or pumps and accessorizing with jewelry and a handbag can make the look polished. For a modern professional vibe, I like to layer a collared shirt or a statement accessory underneath the sweater. This look can also work with a blazer on top to achieve an even more tailored look. The proportions are always important with ankle pants, so ensure your top is long enough to cover your figure adequately.
10. Printed Shirts With Ankle Pants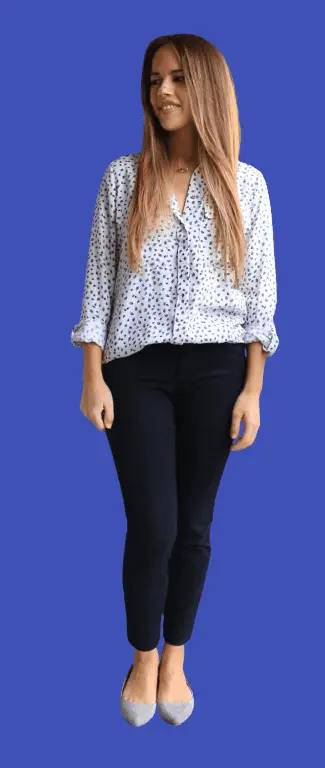 Sometimes, I wear something more playful to work. One of my favorite looks for this is pairing ankle pants with a printed shirt. Going for a high-quality fabric and a more subtle print can perfectly balance professionalism and individuality. In addition, I like to pair printed tops with solid bottoms and accessories for a timeless look that stands out without being too loud. Finally, as an extra styling tip, I want to roll up the cuffs of ankle pants – this modern detail looks an unexpected yet stylish touch.
11. Crew Cardigan With Ankle Pants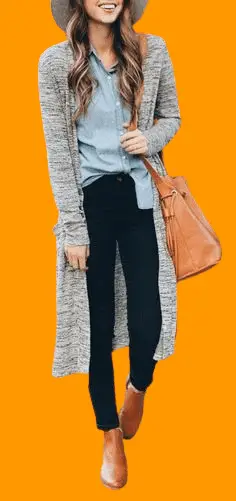 When I need to stand out at the office, I wear a classic cardigan with ankle pants. The boldness of the patterned cardigan top is offset by sleek ankle pants, creating a sophisticated yet playful effect. A light blazer over the top combines everything and gives the outfit a more polished feel. When wearing such a bold top, I go for classic accessories not to overpower the look, such as a black leather handbag and stud earrings.
12. Duster Coat With Ankle Pants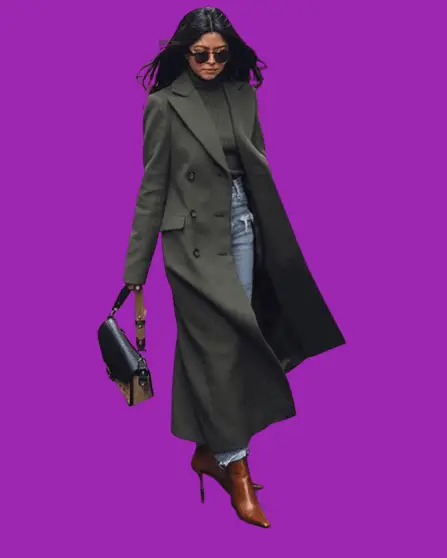 My absolute favorite office look is a duster coat paired with ankle pants. The duster coat gives the outfit a classic touch while providing a long, ankle-skimming silhouette. The perfect finishing touch for this ensemble is a pair of dressy boots and a structured handbag. In addition, I like to tie the duster coat at the waist with a thin belt for an extra fashionable touch, creating a figure-flattering shape that still oozes class and poise.
13. Lace Top With Ankle Pants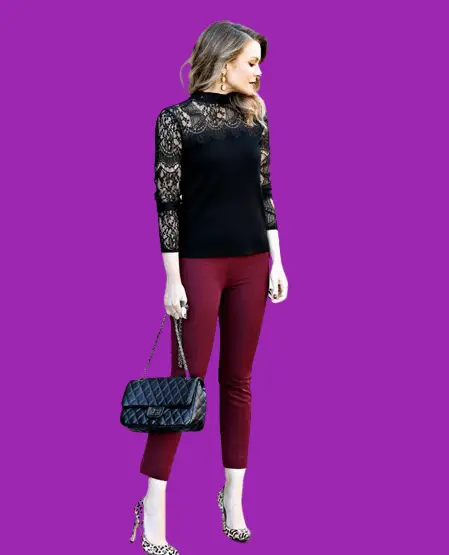 A lace top is ideal for the perfect one to wear with ankle pants to work. Not only does a lace top look chic and professional, but it offers some visual texture to your outfit that makes it stand out. Additionally, a lace top looks great with either flats or heels; whatever your preference for a work look, a lace top perfectly complements your ankle pants.
Tips for Wearing Ankle Pants to Work
Ankle pants are a stylish option that can be worn in any office environment and can easily take your look to the next level! Whether you opt for a classic cut, tapered khakis, or a printed pattern, here are my four tips for wearing ankle pants to work. 
Opt for a tailored blazer for a more structured silhouette. 
Wear a pair of pumps or heeled boots for the day to add additional sophistication.
Balance-fitted trousers with a loose-fit top to break up the look.
Incorporate accessories like jewelry for a stylish finishing touch.
FAQ
How can I accessorize ankle pants for a dressier look?
To dress up your ankle pants, opt for a structured blazer to embellish your workwear. Along with sharp shoes and a statement necklace, accessorizing ankle pants for a dressier look is easy. A heel will add sophistication to your outfit, and a bold lip color can elevate the entire look. Keep extra loafers or flats in your bag to switch out at the office. These simple pieces allow you to transition your outfit from the office to the evening easily.
Can I wear ankle pants to a job interview?
Yes, you can wear ankle pants to a job interview! Wear trousers just above the ankle to maintain an appropriate, professional look when selecting your outfit for a job interview. Tailored and polished ankle-length trousers and a well-ironed blazer will make you look sharp and professional. As a finishing touch, choose proper footwear – such as a supported heeled boot or a neat pump and accessorize with minimal jewelry or a stylish belt. You'll capture the employer's attention with a sophisticated and businesslike appearance!
Can ankle pants be worn with flats?
Yes, ankle pants can be worn with flats! However, remember to choose your styles accordingly, such as choosing pants with a tapered leg for a more polished look. To complete the look, find flats in a complementary color that will complement your outfit rather than detract from it. Additionally, considering the type of top you wear and applicable accessories can tie the whole look together.
Conclusion
Overall, wearing ankle pants to work can be a manageable task. With the right fit, fabric, color, and accessories, ankle pants can be a great addition to your professional wardrobe. With these 13 outfit ideas, you can confidently find the perfect way to wear ankle pants to work. You can create the perfect look that fits your body, style, and workplace demands with experimentation and additional research. So go ahead and start experimenting!