9 Flattering Ways to Wear Ankle Pants for Plus-size Figures
As a plus-size woman, finding pants that fit well and make me feel confident can be challenging. But when it comes to ankle pants, I've discovered a stylish and comfortable option that's perfect for any occasion. So now, you might be wondering, "How to wear ankle pants plus size?"
Well, you're in luck! In this blog post, I'm excited to share nine outfit ideas to help you confidently rock ankle pants. From chic and casual to professional and polished, these outfits will inspire you to step up your style game. So if you're ready to learn how to style ankle pants for a plus-size figure, let's get started!
How To Wear Ankle Pants Plus Size?
Ankle pants are one of my favorite wardrobe staples because they're versatile, easy to wear, and in many different styles. So if you're looking for inspiration on wearing ankle pants as a plus-size woman, you've come to the right place! Here are nine outfit ideas that you can try:
1. Ruched Sleeve Blazer With Ankle Pants For Plus Size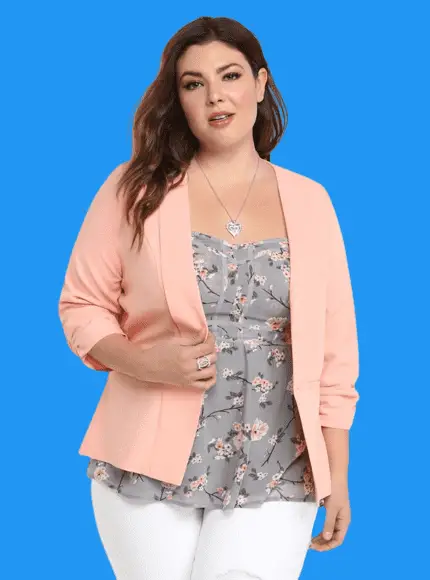 I'm excited to style my new Ruched Sleeve Blazer with ankle pants for a plus-size look. The ankle pants have a modern fit that looks so flattering, and I love how the blazer's ruched sleeves add an edgy touch to the otherwise classic look. To complete the outfit, I plan on pairing it with statement heels and a bold lip color. The result? An elevated and fashion-forward look that can easily be worn for both day and nighttime events!
2. Flowy Shirt With Ankle Pants For Plus Size
My second pick for an effortlessly chic plus-size look would be a flowy shirt paired with ankle pants. This combo creates a comfortable, stylish silhouette that will turn heads. You can easily take this look from day to night with the right accessories. Achieve a fashionable look while accentuating your curves by pairing a flowy shirt with ankle pants.
3. Denim Jacket With Ankle Pants For Plus Size
A denim jacket with ankle pants is a great way to add a trendy touch to any outfit. The key is to find the fit and style of denim jacket that fits your body type. Then, you can pair it with various tops and accessories for a timeless look. Using easy styling tips, you can achieve a chic and effortless appearance that will boost your confidence and keep you looking stylish throughout the day. Read our recent post about- How To Wear Black Ankle Pants?
4. Strappy Heels With Ankle Pants For Plus Size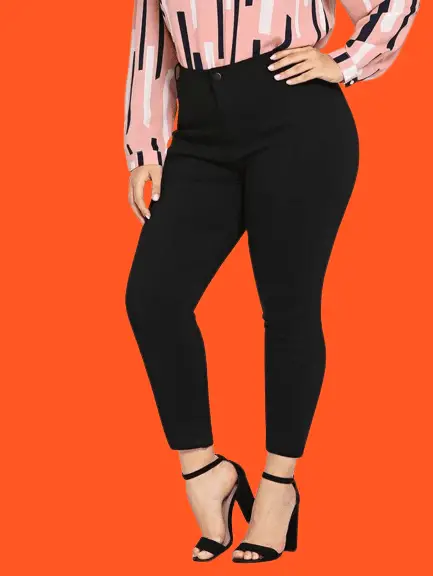 One of my favorite go-to looks is a pair of ankle pants paired with strappy heels. This outfit not only looks stylish but also accentuates my curves subtly and flatteringly. The combination of the ankle length and the heels creates a long look, making my legs look extra long, which gives me a confidence boost. The strappy heels can also be worn depending on the occasion, making it a great option for any event. You can wear this ankle pant outfit to work.
5. Cowl Neck Sweatshirt With Ankle Pants For Plus Size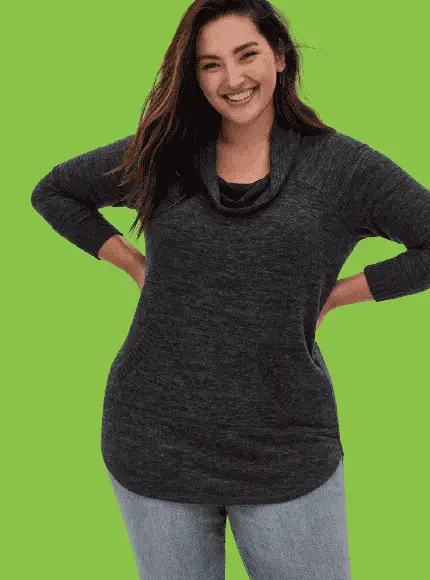 I love the look of a cowl neck sweatshirt with ankle pants as a plus-size woman. This is comfortable and stylish, making it suitable for different events and occasions. The cowl neck on the sweatshirt adds an element of sophistication, while the ankle pants hug my curves in all the right places. I usually pair a solid-colored cowl neck sweatshirt with printed ankle pants to add fun and personality to the outfit. If you are confused about shoes, read our recent guide, What Shoes To Wear With Ankle Pants?
6. Leather Jacket With Ankle Pants For Plus Size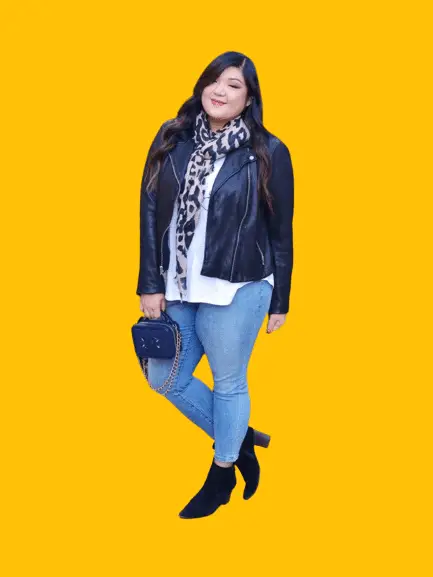 Pairing them with a leather jacket is another great way to look stylish and feel confident wearing ankle pants as a plus size. Leather is a great material that always goes in style and is very flattering. So whether you choose a fitted or oversized leather jacket, you can create a sleek, stylish look that will make you feel amazing. You can wear this ankle pant outfit in winter.
7. Graphic Tee With Ankle Pants For Plus Size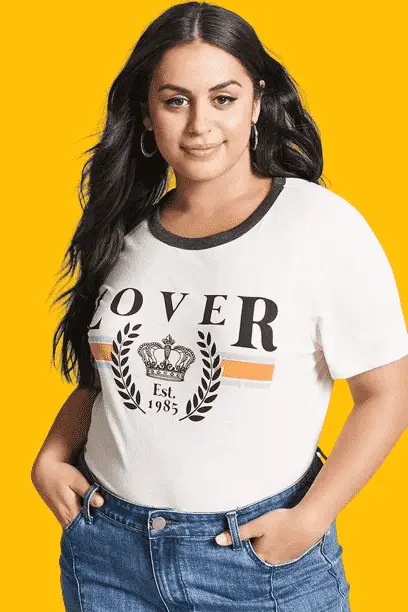 Ankle pants are a great fashion choice to accentuate your curves and look trendy. As a plus-size woman, I love how comfortable and flattering ankle pants are. Pairing a graphic tee with ankle pants is the perfect way to create an effortless look that works for any occasion. If you're looking for a casual or dressy outfit, you can easily create an eye-catching look with a graphic tee and ankle pants.
8. Biker Jacket With Ankle Pants For Plus Size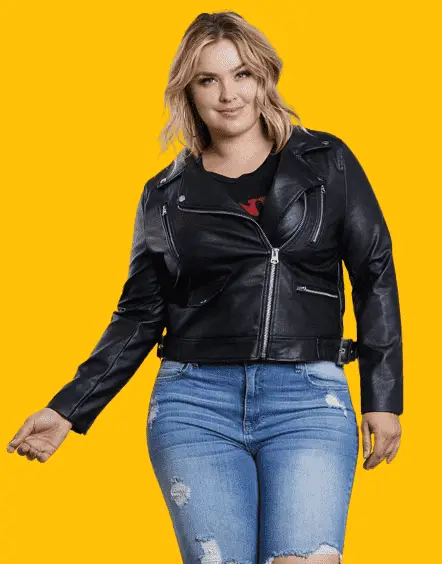 To give my plus-size look an edgy twist, I love to pair a biker jacket with ankle pants. Not only does it look stylish, but it's also very comfortable. The combination is perfect for a more casual look, and the biker jacket adds a cool, modern vibe to the outfit. I'm always impressed with the versatile combination – it can easily be worn with the right accessories. I'm a plus-size gal, so this is a must-have in my wardrobe.
9. Tailored Shirt With Ankle Pants For Plus Size
The last outfit I want to discuss is a tailored shirt with ankle pants for plus size. This is a great look for the office or other professional settings. The look is classic, timeless, comfortable, and flattering on a plus-size figure. The shirt should be tailored to fit your body perfectly, and the pants should be slim and hit at or just above the ankle. Add a pair of heels or flats and some subtle jewelry to complete the look. This style is timeless and will enhance your appearance for any event.
Common Mistakes to Avoid When Wearing Ankle Pants for Plus Size
Finding the perfect pair of ankle pants can be a daunting task. But with the right tips, you can rock the style look! Here are three common mistakes to avoid when wearing ankle pants for plus size:
Not Paying Attention to the Length: Ensure the pants are long enough to cover your ankles and not too long to drag on the ground.
Choosing the Wrong Fabric: Avoid fabrics that are too heavy or bulky, as they can make you look bigger.
Ignoring the Fit: Avoid baggy or ill-fitting styles that will make you look larger than you are.
Conclusion
These nine outfit ideas have shown how versatile ankle pants can be for plus-size women. You can create fashionable and comfortable looks by following simple styling tips. Remember, the key is to find a pair that fits well and flatters your curves. From there, you can mix and match with different tops, shoes, and accessories to create a variety of stylish outfits. So go ahead and give ankle pants a try – I think you'll love them as much as I do!