How To Wear Skinny Ankle Jeans: Look Chic with 9 Outfit Ideas
Being the denim girl, I've discovered ways to wear my beloved skinny ankle jeans and create head-turning outfits. Skinny ankle jeans are well-known for elongating the legs, so why not create fashionable outfits that will step up your style? Learning how to wear skinny ankle jeans will be sure to save you time and put together unique looks effortlessly. So check this guide out, and start rocking those outfit ideas with skinny ankle jeans!
How Should Skinny Jeans Fit at The Ankle?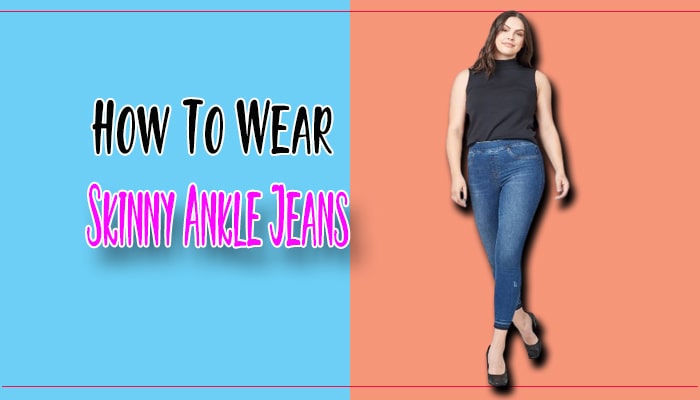 It's important to find the right pair of skinny jeans that fit snuggly, but not too tight, at the ankle. Because ankle jeans emphasize your ankles, they should be slated to slightly or moderately hug your legs with more room around the ankles than the thighs. In addition, skinny ankle jeans should enhance your legs by slightly cropping around the ankle area.
When shopping for ankle jeans, make sure the hem hits already at the foundation of your ankles. All in all, ankle jeans match many outfits beyond creating a look of comfort and walking freedom.
Also Read: Why Are All Pants Ankle Length Now?
How To Wear Skinny Ankle Jeans?
I'm sure you'll agree that skinny ankle jeans have become a wardrobe staple for many of us. But, even though these jeans are so popular, it can sometimes take work to figure out how to wear them in the most stylish way possible.
So, let me show you how to rock skinny ankle jeans with nine unbelievably stylish outfit ideas!
1. White Button Up Shirt With Skinny Ankle Jeans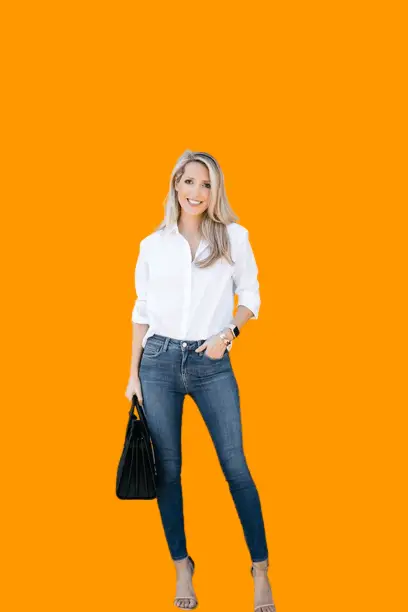 My first go-to look when styling skinny ankle jeans is to pair them with a simple white button-up shirt. The shirt's relaxed fit looks casual, while the fitted denim adds a bit of edge. This is the perfect look when heading out to brunch with my friends or an important meeting.
The jeans add a bit of sophistication to the look, and the crisp white shirt gives it a timeless, classic feel. This outfit looks like an office wear outfit. To know more about office wear with ankle pants, read our recent post- How To Wear Ankle Pants to Work?
2. T-shirt With Skinny Ankle Jeans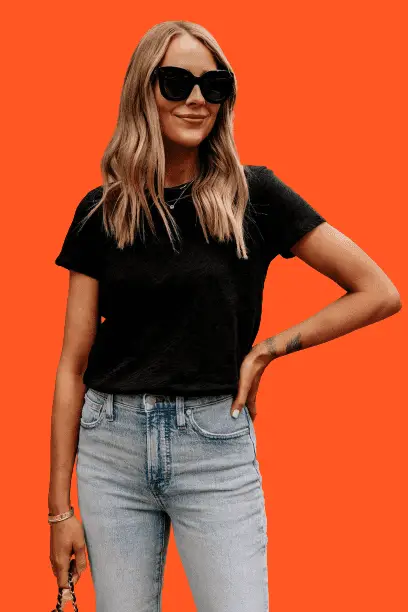 This look is so easy to assemble, but I love it. I grab my favorite t-shirt, skinny ankle jeans, and a pair of comfortable shoes or sandals. The t-shirt provides a comfortable feel, and I love that the jeans add a chic, fashionable touch.
3. Black Long Vest With Skinny Ankle Jeans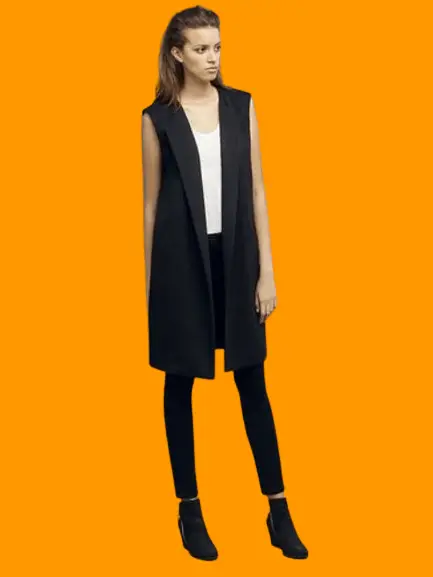 My favorite way to wear skinny ankle jeans is with a long black vest. This look is perfect for a night out or a special occasion. The vest adds a bit of drama to the look, and the fitted jeans keep it from looking too dressy. I usually wear this look with heeled sandals and a simple necklace to complete the look. It's always a showstopper!
4. Knit Sweater With Skinny Ankle Jeans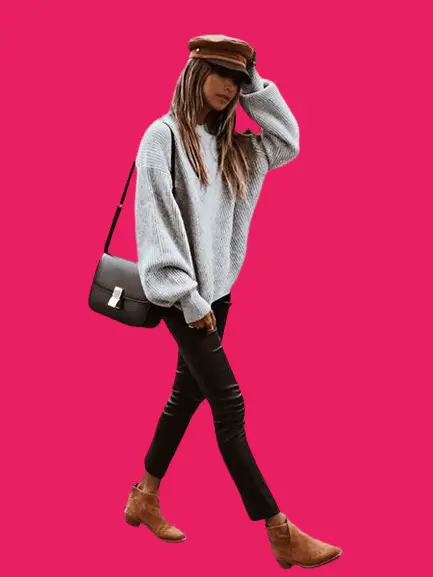 I always look for stylish and comfortable outfit combinations as the weather turns cooler. One of my favorite looks for fall is pairing a warm, soft knit sweater with skinny ankle jeans.
The trendy jeans create a sleek silhouette that shows off the length of my legs, while the knit sweater keeps me cozy and warm. I finish the outfit with ankle boots or flats for a chic, effortless look.
5. Blazer With Skinny Ankle Jeans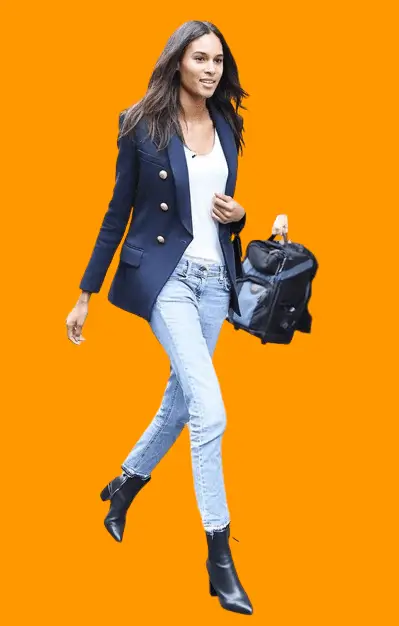 Skinny ankle jeans have quickly become my go-to style for everyday, casual looks. However, wearing them with a blazer is a great way to transform the look into something more sophisticated. I love pairing a slim-fit blazer with skinny-ankle jeans and a plain white t-shirt or blouse.
This combination can be instantly worn with a pair of stylish heels but can also be made more flirtatious with a pair of Funky sneakers. There are so many ways to pull off this tailored yet trendy look.
6. Gray Sweatshirt With Skinny Ankle Jeans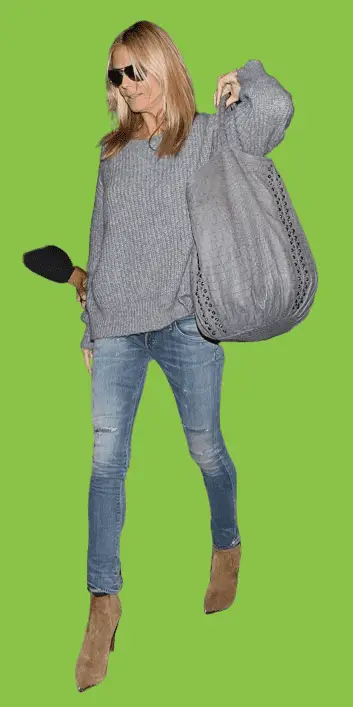 Nothing spells cozy like a gray sweatshirt paired with skinny ankle jeans. This look is one of my go-to outfits for when I want to relax and take it easy. At the same time, it looks perfectly put-together and stylish.
To amp up the style, I like to tuck in the front of the sweatshirt and add a belt, accentuating the jeans' waistline. You can also accessorize the outfit with trendy jewelry or statement shoes. Putting together this ensemble and wearing it can give your look a relaxed yet polished vibe.
7. Deep V Neck Top With Skinny Ankle Jeans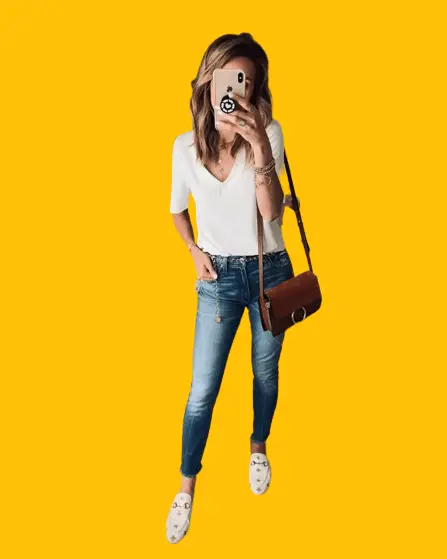 The perfect way to spice up my everyday look is by wearing a deep v-neck top with a great-fitting pair of skinny ankle jeans. I love how the deep v hugs my curves, adding an air of sexiness to my overall look. Plus, skinny ankle jeans offer great flexibility.
They can be perfectly paired with a pair of pumps or add the appropriate street style with a conversation-starting set of boots.
8. Sleeveless Mock Neck Blouse With Skinny Ankle Jeans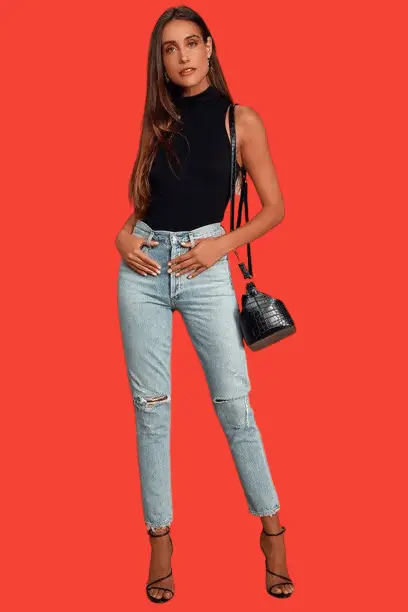 Styling skinny ankle jeans has never been easier! Pairing them with a trendy sleeveless mock neck blouse is a great way to make them look polished and stylish. Combining the two silhouettes lends a contemporary and chic vibe to a sleek look.
For an added layer of comfort and to finish the look, add a cool jacket with bold accessories and the perfect shoes to walk around confidently! The slim-cut ankle jeans and fitted details will ensure a smart, well-tailored look for any occasion.
9. Cropped Cardigan With Skinny Ankle Jeans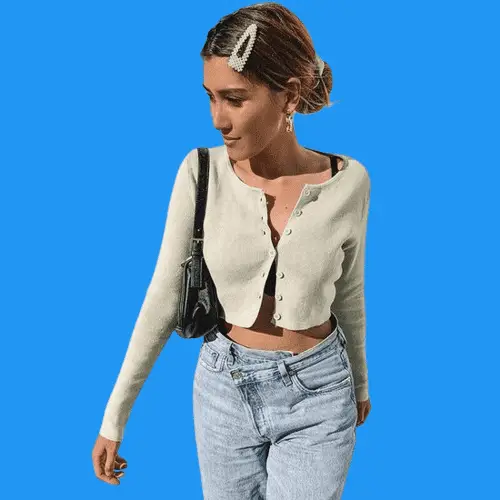 Last outfit option on how to rock the skinny ankle jeans: is a cropped cardigan. This is my absolute favorite look for the late summer, and it's also super easy and simple to pull off. A cropped cardigan layered over a plain (uncut) color paired with skinny ankle jeans creates a nice silhouette.
In addition, you can add a belt for extra definition and more personality to create a nice contrast for the low-rise ankle jeans. To complete the look, pick a set of cute, stacked heels or some heeled shoes to spice up your style!
Frequently Asked Questions (FAQs)
Can I wear skinny ankle jeans if I'm plus-size?
Yes, you absolutely can wear skinny ankle jeans if you are plus-size! The key to pulling off the look is to find a pair that fits your body well. Look for a pair of jeans made with stretch material or featuring higher spandex content, as this will help them fit your body shape better. Be sure also to pick a dark wash, as this will help to slim your look. With the right fit, there is no reason why you can't wear skinny ankle jeans, regardless of your size. Read our related post about How To Wear Ankle Pants Plus Size?
Are skinny ankle jeans suitable for all body types?
Yes, skinny ankle jeans are suitable for all body types. Though they were once considered a style only the most daring fashion mavens would wear, they can now be seen everywhere, from fashion catwalks to casual Fridays. The key to making skinny ankle jeans look great is how you wear them. Wear them with slim-fitting tops that won't bunch or bag; mix them with platform heels or casual flat sandals; and accessorize with bold jewelry or a printed scarf. With some creativity, your skinny ankle jeans outfit will look chic no matter your body type.
What shoes should I wear with skinny ankle jeans?
When wearing my skinny ankle jeans, I like to make sure the shoes I choose are slim and streamlined. Think classic oxfords, sleek ballet flats, and understated sandals. The main thing is to ensure the shoes don't overpower the look and avoid bulky heels, boots, and sneakers. Last tip – a bright pair of kicks always add a stylish, confident pop of color and personality! Read our recent post about What Shoes To Wear With Ankle Pants?
Conclusion
This guide of nine outfit ideas on wearing skinny ankle jeans has given you some fashion inspiration. Skinny ankle jeans are stylish, comfortable, and versatile, allowing you to create looks from casual to dressy in no time. With so many options, there's something for everyone, so get creative and experiment to find your perfect style.