Who Owns Wrangler Jeans? Unveiling the Iconic Brand's Ownership
When it comes to denim, Wrangler Jeans has been an ever-present name that stands for ruggedness, authenticity, and timeless style. As one of the leading denim brands worldwide, it has captured the hearts of fashion enthusiasts, outdoor adventurers, and everyone in between. While most people are familiar with the brand itself, not many know the actual entities behind its ownership.
In this article, I will dive deep into Wrangler Jeans' ownership history. I explore key figures and corporations driving its growth. Unravel the story of this iconic denim brand.
The Origin Story: Who Founded Wrangler Jeans?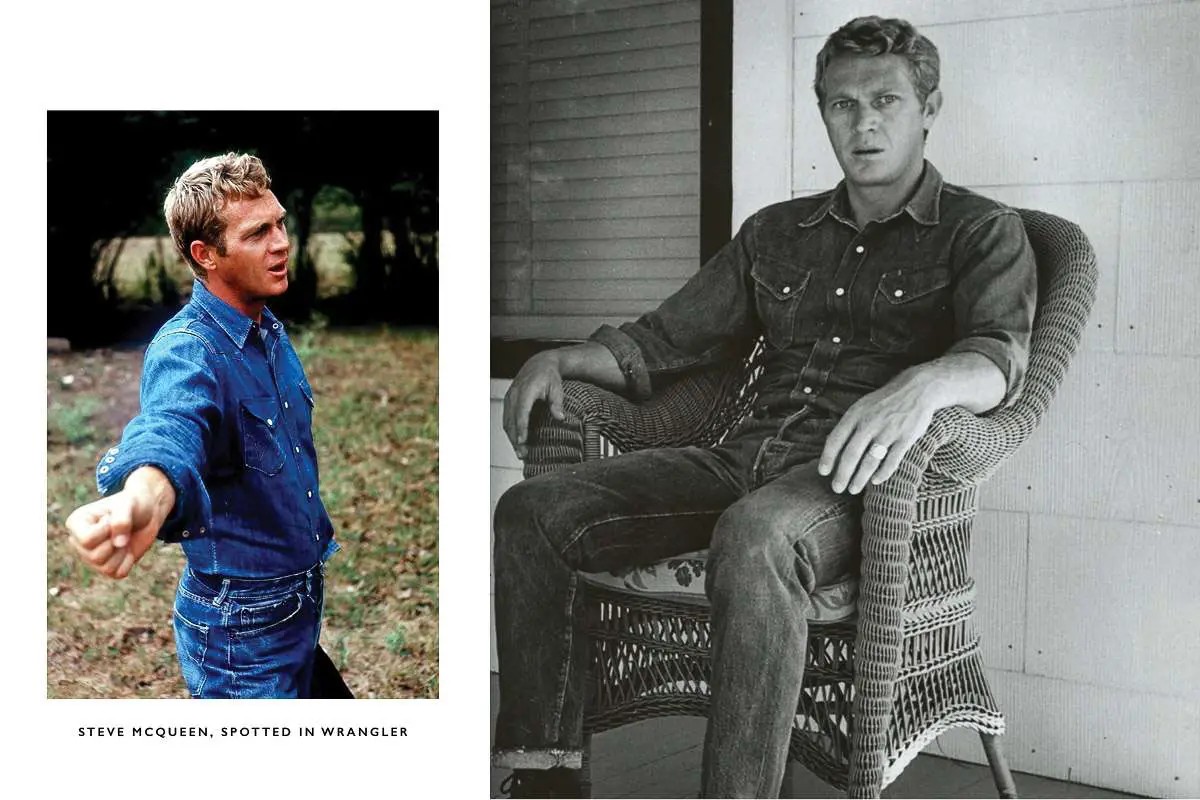 Before we dive into the present-day ownership of Wrangler Jeans, it's essential to acknowledge the visionaries who laid its foundation.
C.C. Hudson founded Wrangler jeans in 1947. Hudson was the founder of the Blue Bell Overall Company, which later became known as Blue Bell, Inc. The company was founded in 1904 in Greensboro, North Carolina.
In the early 1940s, Blue Bell acquired the Casey Jones Work-Clothes Company, and the rights to the rarely used Casey Jones brand name: Wrangler. Blue Bell then started to develop a jeans line for cowboys, hiring famous tailor "Rodeo Ben". Blue Bell workers took part in a contest to give the jeans a brand name. The winning name was Wrangler, synonymous with the name for a working cowboy.
The first pair of Wrangler jeans were introduced in 1947. The jeans were designed to be tough and durable, and they quickly became popular with cowboys and other working men. In the years since Wrangler jeans have become one of the most popular denim brands in the world.
Related Post: Where Are Wrangler Jeans Produced?
Evolution of Ownership: A Series of Transformations
Over the years, Wrangler Jeans changed hands multiple times, each transition bringing new opportunities and challenges.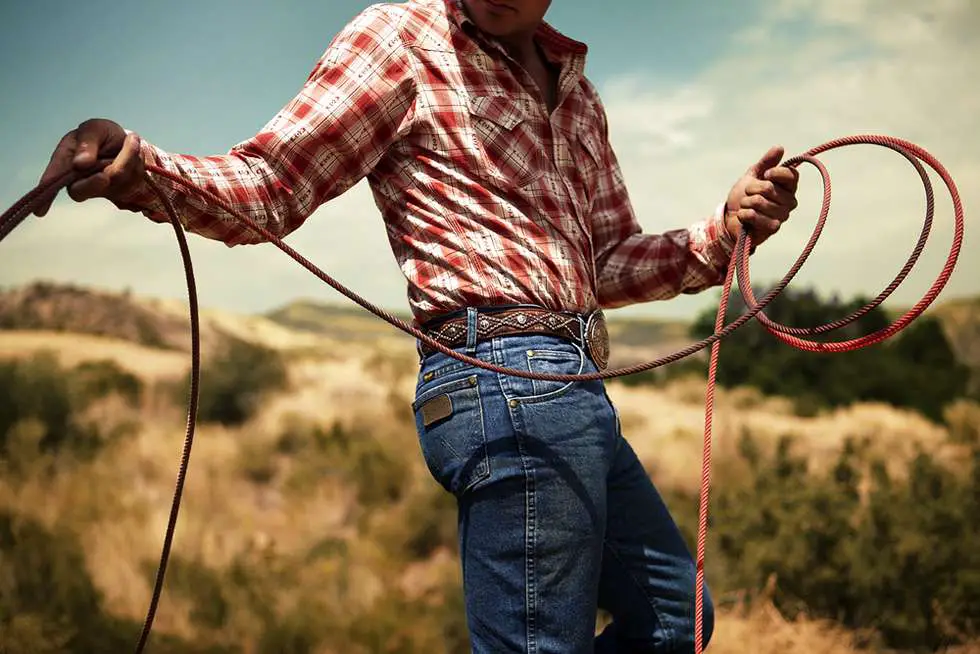 1. Blue Bell Inc.
Initially, Wrangler Jeans was owned by the Blue Bell Overall Company, the very entity that gave birth to the brand. The company recognized the rising popularity of Western wear and decided to focus exclusively on the Wrangler line.
2. VF Corporation
In 1986, the VF Corporation, a global leader in branded lifestyle apparel, acquired Blue Bell Inc. This acquisition bolstered VF Corporation's presence in the denim market, making Wrangler Jeans one of its prized possessions.
3. VFCorp's Growth and Expansion
Under VF Corporation's ownership, Wrangler Jeans experienced significant growth and expansion. The brand diversified its product range, introduced new designs, and established itself as a symbol of American heritage.
4. Kontoor Brands Inc.
In 2019, VF Corporation made a strategic decision to spin off its jeanswear business, leading to the creation of Kontoor Brands Inc. Wrangler Jeans became one of the cornerstone brands of the newly formed company.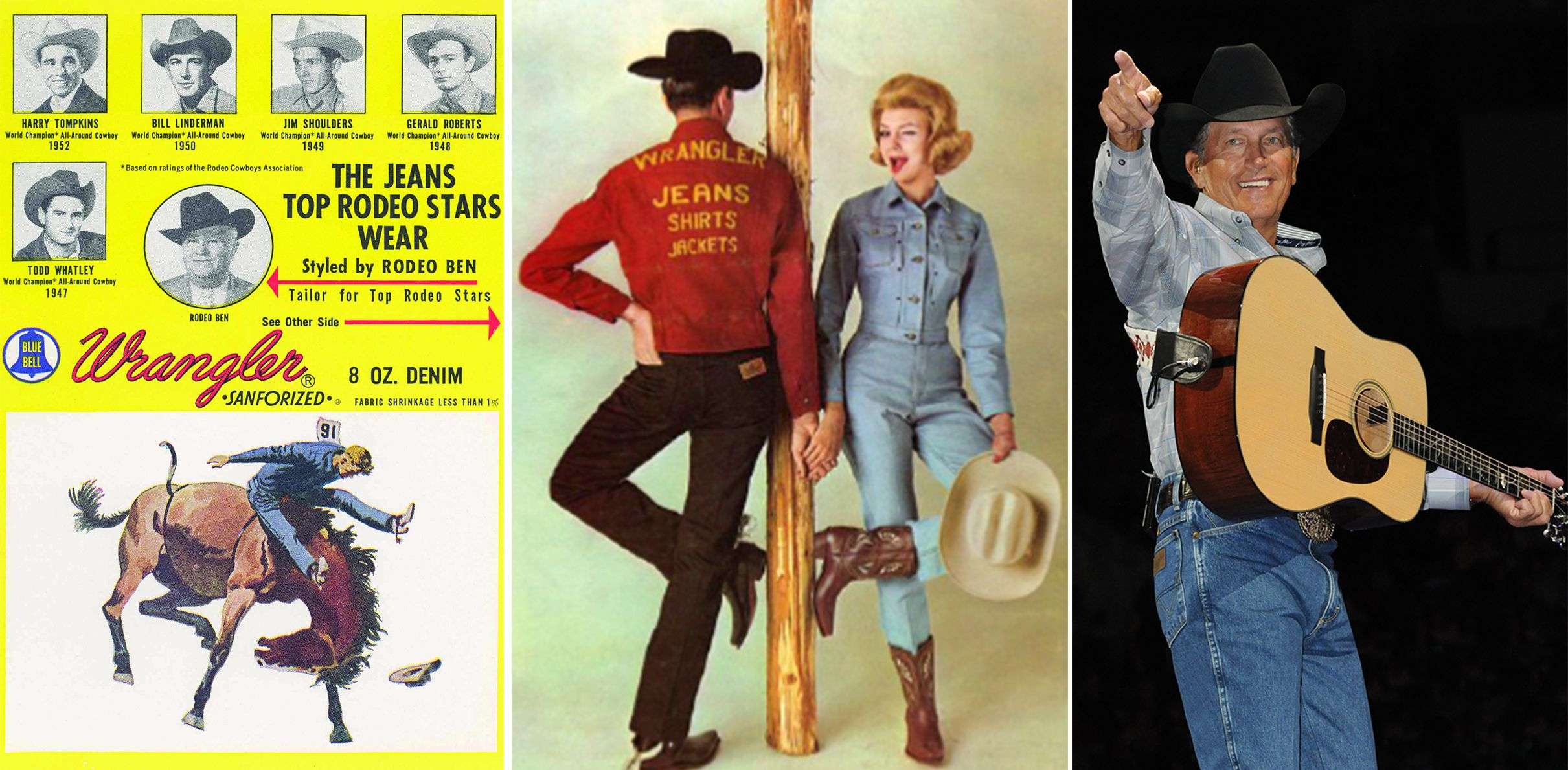 5. Present-Day Ownership
As of 2023 Kontoor Brands Inc. remains the proud owner of Wrangler Jeans. The company continues to nurture the brand's legacy while adapting to modern fashion trends and consumer preferences.
Wrangler Jeans' Impact on Fashion Culture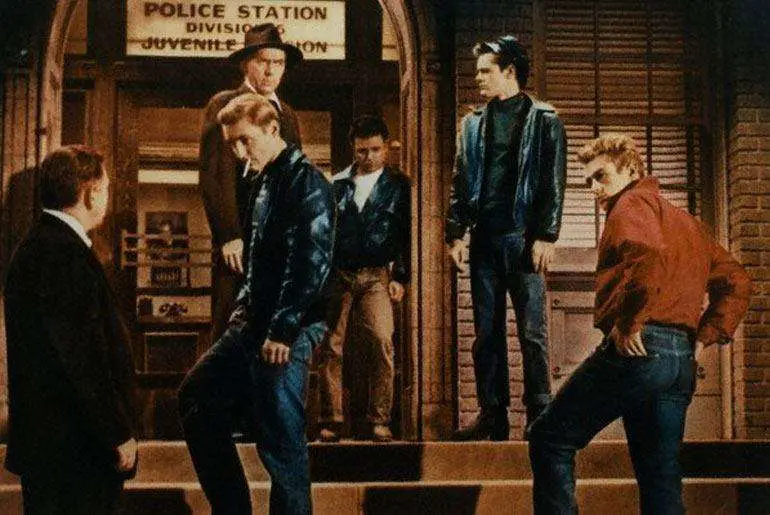 Throughout its existence, Wrangler Jeans has left an indelible mark on the world of fashion and popular culture. From its association with the ruggedness of the Wild West to becoming a symbol of rebellion during the counterculture movements of the 1960s and 1970s, Wrangler has seamlessly blended style with heritage.
Notable Collaborations and Collections
Wrangler Jeans' influence extends beyond its core denim offerings. The brand's collaborations and limited-edition collections have consistently garnered attention from fashion enthusiasts and celebrities alike.
Read More: Best Kuhl Pants
1. Wrangler x Peter Max Collection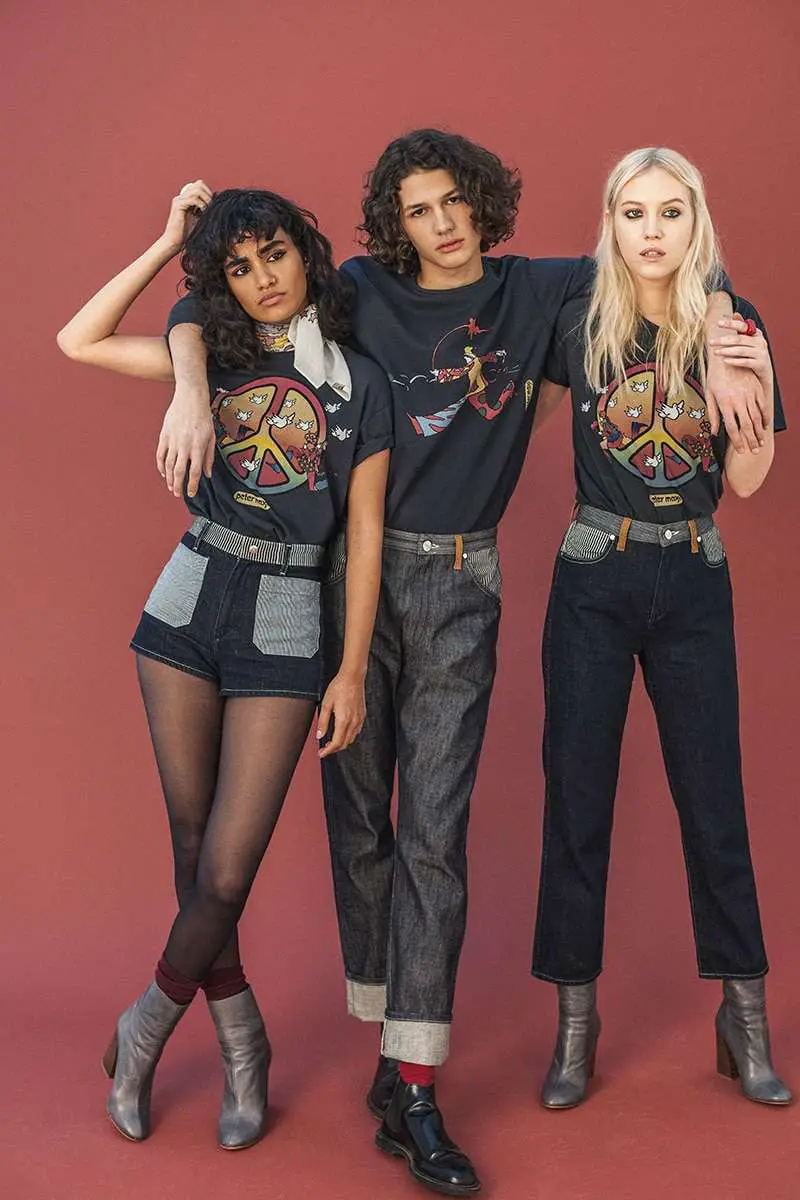 In the 1970s, Wrangler partnered with renowned artist Peter Max to create a collection that combined the brand's Western aesthetics with Max's psychedelic art.
2. Wrangler x Fred Segal Collection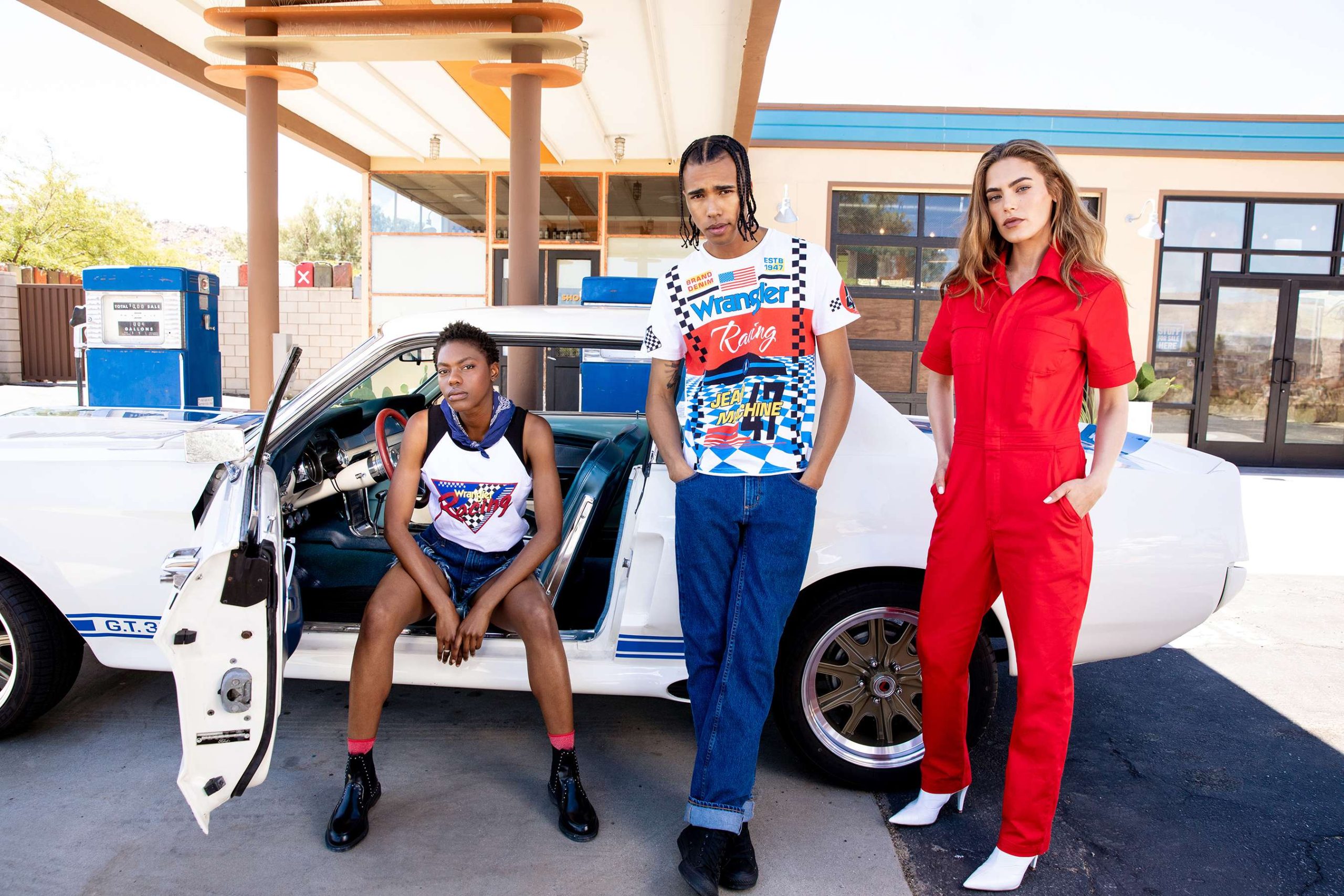 More recently, Wrangler teamed up with iconic Los Angeles boutique Fred Segal. They produced a collection that reflected the laid-back, bohemian vibe of the Californian lifestyle.
Sustainability Initiatives: Who Owns Wrangler's Responsibility?
As environmental consciousness grew, many fashion brands, including Wrangler Jeans, embraced sustainable practices. Kontoor Brands Inc. has undertaken various initiatives to reduce the environmental impact of its products.
Wrangler's Commitment to Sustainability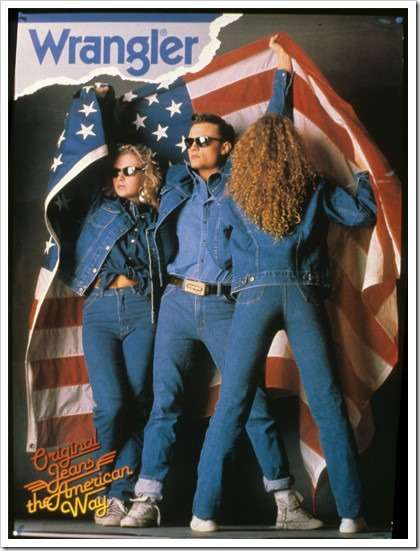 1. Water Conservation Efforts
Kontoor Brands Inc. has invested in innovative technologies to minimize water usage in the denim production process, reducing its overall water footprint.
2. Eco-Friendly Materials
The company actively explores eco-friendly fabrics and materials, striving to create jeans that are not only durable and stylish but also environmentally responsible.
FAQs
Can I find vintage Wrangler Jeans?
Yes, vintage Wrangler Jeans are highly sought after by collectors and fashion enthusiasts. Online platforms and vintage stores often carry these timeless pieces.
Does Wrangler Jeans offer customization options?
Wrangler Jeans provides limited customization options, allowing customers to personalize their denim with embroidery and patches.
Are Wrangler Jeans suitable for outdoor activities?
Absolutely! Wrangler Jeans' sturdy construction makes them ideal for outdoor adventures, from horseback riding to hiking.
What is the most popular Wrangler Jeans fit?
The "Wrangler Cowboy Cut" fit remains one of the brand's most popular and iconic styles.
Does Wrangler Jeans have a sustainable collection?
Yes, Wrangler Jeans offers a sustainable collection that incorporates recycled materials and eco-conscious production methods.
How often does Wrangler release new collections?
Wrangler introduces new collections regularly, reflecting current fashion trends and customer preferences.
Conclusion
Wrangler Jeans, with its rich history and enduring legacy, has become a symbol of ruggedness, authenticity, and timeless style. Founded in 1947 by C.C. Hudson under the Blue Bell Overall Company, the brand has seen various transformations in ownership, ultimately becoming a prized possession under Kontoor Brands Inc. today.
Wrangler's impact on fashion culture, notable collaborations, and its commitment to sustainability further solidify its place as an iconic denim brand. From cowboys to fashion enthusiasts, Wrangler Jeans continues to capture the hearts of people worldwide, blending style with heritage and embracing the spirit of the Wild West.
Source:
https://wrangler.com.au/discover-about-us/about-us-our-history.html#:~:text=THE%20SEEDS%20OF%20WRANGLER%20WERE,SETUP%20THE%20HUDSON%20OVERALL%20COMPANY.
https://en.wikipedia.org/wiki/Wrangler_(brand)#:~:text=Wrangler%20Jeans%20were%20first%20made,Jones%20in%20the%20mid%2D1940s.